Good Bye KMZT - 2/26/07
(Reprinted with the kind permission of LARADIO.COM)
The Anatomy of the K-Mozart Flip to Country
(February 26, 2007) The latest seismic shift in the L.A. radio landscape happened Friday with the announcement that Classical K-Mozart (105.1/fm) was flipping to a Country format. After 18 years as a Classical music station with such artists as Mozart, Bach and Beethoven, the 105.1/fm frequency would now house a stable of artists filled with Toby Keith, Carrie Underwood, Rascal Flatts, Dixie Chicks, Big & Rich and Alan Jackson.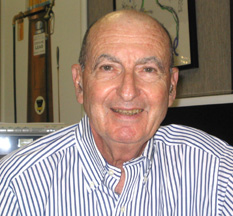 Saul Levine, longtime owner of K-Mozart described what prompted his decision to change formats. "Let's go back to 1989," said Saul by phone yesterday afternoon. "The listener who is 60 today was 42 when we started, which was a very viable target audience for advertisers. It is the same thing that is happening to Oldies and even Smooth Jazz. The audience is getting older and the advertiser wants younger. This is a phenomenon that has become acerbated in the last three or four years."
Saul remembered that 20-30 years ago Classical stations like KFAC received a premium status with the advertising community. "If your Arbitron share was a 2, they would tag an extra 5% on it because it was Classical and the audience was so exclusive, so desirable and so difficult to reach. Today, we not only don't get a premium, they subtract from our value because of the age situation."
"The advertising has never been the same since the implosion of the dot comers," said Saul. "What would happen with us, even in the good days, we were the last to get a buy. There was so much money out there at the time, when other stations couldn't take any more they'd come to us. As far as the general market we would get the left-overs, but there were lots of left-overs back then."
With the flip of the long-time Country outlet KZLA moving to an Urban AC format. Saul felt there was a void in the marketplace and switched his two AM stations to Country – first his 540 AM in October followed by a simulcast at 1260 AM beginning in November. "I thought one of majors would switch one of their stations to Country, but it just didn't happen," observed Saul. He eventually put Country on 540 with the hope of continuing Adult Standards on 1260. "Within a couple of weeks, people were shouting 'we want to hear what you are doing but we can't hear you in parts of Los Angeles.' The next step was to simulcast on 1260."
Saul and his team were expecting this move to be embraced by Nashville and the advertising community but instead, the opposite happened. Not only were key music buys not going to 1260 and 540, some labels refused to even service the stations with product because there was not the glamour of an fm station playing Country.
"At this time I did not have the slightest thought about putting Country on the fm. In fact, someone wrote LARadio asking why I didn't put the Classical on the AM and the Country on the fm. I thought to myself, I'm not going to do that. Then others suggested I do it since it was such a mass appeal market format that desperately needed area-wide coverage. Candidly our 1260 signal cuts back at sundown," admitted Saul.
Saul addressed the success of KFRG in the Inland Empire. "When KZLA dropped Country, K-FROG developed illusions of grandeur and decided they were going to be an L.A. station. They were starting to push us and we were finding it difficult because they were going around telling the agencies that they had L.A. coverage, which they don't. They don't penetrate buildings. They are marginal in many parts of the city, and you can't hear them north of the Hollywood Hills. So we had the Country fans clamoring for the service on fm, and we had K-Frog going to the agencies and poo-pooing us demanding buys. We had all this pressure on us."
These factors were coupled with the reality that the ad community was not as supportive of Classical music as it once was. In January, Saul discovered that some of his most loyal annual accounts were not renewing. "This was a whole new can of worms for us. The agencies are very careful where they allocate their budgets and they had a very high cost per point situation. For us to even sell to them we had to throw in either bonus spots or spots at $25 a piece. You can't stay in business doing that."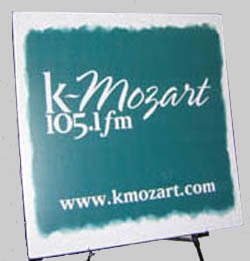 BMW was one of K-Mozart's biggest accounts in the past and the car maker cancelled running their ads on the station. "When BMW, an upscale luxury car, says they are not going to advertise to the Classic listener, you have to take notice of that. Mercedes hasn't bought us in a couple of years. They took the attitude that the audience was set in their ways – if they already own a Mercedes, they'll probably replace it with a Mercedes. If they don't own a Mercedes, they're not going to buy a Mercedes. They are set in their ways. We have research that Nissan is very big with our audience and yet we could never get them to buy us."
"In addition to all these advertising factors, we are in what we consider an anti-competitive situation where you have Clear Channel getting buys for all their stations freezing others out. We have account after account saying they couldn't buy us because we're buying the entire Clear Channel package. We filed a notice with the FCC recently and they responded with, 'We don't have a policy to do that.' Our counter response was you may not have a policy to do that but that's what you do. And this has hurt us."
Earlier this month Saul sat with his staff lamenting the accumulating disappointing news with the worst January they have ever had (40% down from year-to-year) and for the entire year they were projecting an 80% drop in revenue. K-Mozart grossed $4.8 million in 2006, which Levine admitted was "pretty pathetic." He said, "Here I have one of the most powerful stations in Los Angeles with everyone else doing $30, 40, 50, 60 million and we're only grossing $4.8. And we were looking at substantially less for this year."
Saul had to come to grips with the fact that he was either running a hobby or a business. He looked at the KZLA cume of 560,000 listeners who were no longer being served in L.A. and Orange County and thought there was a huge potential to serve this format.
Typically what happens when a Classical format is dropped, the owners sell the station and then the new owners take the brunt of the complaints when the change is made. "But I'm not doing that," emphasized Saul. "We're trying to keep Classical on 1260 AM and our 105.1 HD2 channel and we're going to serve this incredibly dynamic population that wants 24-hour wide fm coverage of Country."
Saul's son Michael, who is marketing director for Mt. Wilson Broadcasters, spent Sunday at the station sifting through the hundreds of email and voicemails. Michael spared some of the harsher responses to losing Classical, but Saul read one email that thanked him for providing many years of Classical music pleasure.
In the first week of March, a Country veteran will be joining the station as music director and midday personality. Mike Johnson, a long-term programming associate of Saul's, will be program director for the Country operation. He said that the goal of KKGO Country will be live and local during the day until they join Whitney Allen's syndicated show from Dial-Global. Dial Global will be providing evening programming until Shawn Parr's live morning show. "The weekends will be a combination of Dial-Global, special shows, countdown, and features. This is very fluid, at the moment," said Saul.
On Classical 1260 AM, Laura Brodian will work from 7 a.m. – noon and Gary Hollis will on from noon until 5 p.m. "We're working on filling in the rest of the schedule, which will include Nick Tyler who will work around his busy acting schedule." Sixteen year K-Mozart veteran and morning man Rich Capparela will not be joining the AM operation. "Rich is truly professional," enthused Saul. "I told Rich that I hope we can work out projects together and keep the relationship going."
In an unrelated story, Saul is awaiting final approval to take over the operation of California State University, Long Beach's radio operation, KKJZ. Will this flip at K-Mozart raise eyebrows about KKJZ continuing with jazz or will there be a change? "There are two reasons why there will be no change," Saul emphasized. "One, I'm not going to. I love jazz and I want to keep it on the air. Second, and more importantly, our contract with Cal State Long Beach says that we must stay jazz or we lose the contract. It must be classic jazz or we void the contract." Saul is talking with a veteran jazz program director and is very close to signing this programmer.
Saul is hosting a press conference later this morning to talk about the change. A surprise Country artist will perform at the Museum of TV & Radio following the press conference.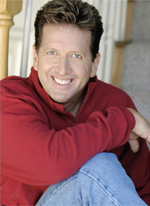 Parr Thrilled. "I haven't been able to breath for days!" enthused Shawn Parr, morning man at KKGO. "I have been on a Southern California night club tour and I am absolutely overwhelmed at the response. In my 20 year career I have never seen anything like this! It's really happening and Saul Levine has answered so many prayers. I am at the studio now and don't anticipate getting much sleep! I mean after all I don't want to wake up from this incredible dream! Country is BACK!"
Capparela Sleeps In. "I find myself at ground zero quite a lot when it comes to the Classical formats going under and I seem to wind up with very little mud on my cuffs," said a reflective Rich Capparela yesterday, less than 48 hours after being told by K-Mozart owner Saul Levine that his morning home of 11 years had come to an end as the station was flipping to Country. The parting was entirely amicable, according to Rich who has detailed his leaving at his Web site: http://www.cardiffstudios.com/. "Station owner Saul Levine and I have known one another for nearly two decades, and this marks the end of my longest run at any radio station: eleven years non-stop as the weekday morning announcer."
When did Rich have an inkling that the station might flip? "In December the station had its annual holiday staff party at Prego Ristorante in Beverly Hills. As was the tradition, it was a lunch and gift- exchange party. I was given a Santa hat and asked to host the gift- exchange portion of the afternoon. I started my remarks by saying, 'I see several new faces in the room today. In case you don't know me, my name is Rich 'Country' Capparela.' I then looked over at owner Saul Levine's table and added 'Just hedging my bets, Saul. Just hedging my bets.' I then continued with something to the effect that 'I love Country music. Yeah. Really. Especially that woman group. You know, the Chixie Dicks. And also I loved that bio-pic about the Man in Black - the film Walk the Line, celebrating the legacy of that great singer Johhny Paycheck - or some sort of currency.'"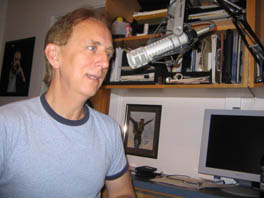 Rich (r) said the format flip was a shock, but not a surprise. "Say what you will about the ruthlessness of the radio industry, but Friday night I was scheduled to host a live broadcast concert by the Pacific Symphony on 105.1/fm. A concert featuring [can you say ironic?] Gustav Mahler's Resurrection Symphony. Saul did not cancel the planned concert broadcast. Saul Levine did not replace me with someone else. Saul allowed the broadcast to go on as scheduled. He allowed me to go on his airwaves even though we'd just ended our professional relationship. Anyone in radio will tell you that it's not done that way. You just don't let a former employee get near an open mike. Well, Saul trusted me to be a professional. At somewhere in the vicinity of $250,000 per obscenity fine by the FCC, that's a whole lot of trust.
"I saw the station logs were not as full with commercials as it should be," admitted Rich. "From a financial point of view, it is hard to argue with going for a format that obviously has a very big audience. This was a huge gift on Saul's platter that was given to him. It's not like Saul Levine is the only person to drop classical in the last 20 years. Somebody should come up with the call letters and call it what the industry thinks it is – AARP-FM."
Rich is headed for Italy at the end of the week. "The timing is perfect, and it will be a chance to clear my head. But I feel terrible for the listener. At Friday night's event, people came up to me as if someone had died. I seem to be a lightning rod for people's concern."